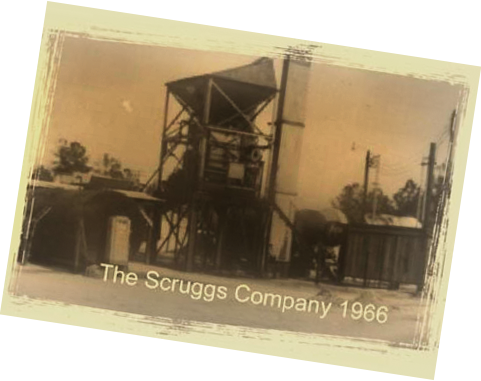 At the age of 14 Kenny Scruggs went to work for his father, Fred, in their small family sand business. Alongside his brother, Ferrell, the young Scruggs spent many long hours learning the trade, as well as the value of hard work. In August 1963, Kenny now 21, the two brothers went into the concrete business together under the name, The Scruggs Company. At first just a small operation with five employees and three trucks, the early years were lean, with Kenny often having to collect money from customers each week in order to make payroll. But the determined brothers kept at it, and slowly but surely, the hard work and commitment began to pay off and the company grew. In 1974 they acquired a small concrete block business in Moultrie, Georgia. In 1981, as greater opportunities for expansion became apparent, the brothers divided the company into two separate enterprises. Ferrell retained the sand plant and asphalt contracting portion and the Scruggs Company name, while Kenny launched the ready-mixed concrete and block manufacturing divisions as Scruggs Concrete.
Today Scruggs Concrete boasts a fleet of seventy vehicles and employs a workforce of one hundred men and women operating eleven concrete plants in South Georgia and North Florida. In addition to producing high quality ready-mixed concrete, our Valdosta block manufacturing plant is capable of turning out up to 24,000 block per day. These units have been used in thousands of construction projects throughout the southeast. We also supply a vast range of building products including brick, mortar, rock and sand, fireplace equipment, masonry tools, stucco products and much more.
It has been our distinct privilege to provide the materials that make up the foundations of our local communities. If you've enjoyed a meal in one of our area restaurants or toured Moody Air Force Base, it you've attended one of our local schools or sat in one of our churches, if you've walked the beautiful campus of Valdosta State University or cheered on the football team in Lowndes County High School's "Concrete Palace," then you have experienced some of our work. We look forward to many more years of helping our communities grow and flourish while honoring our tradition of providing quality products and service. Please visit the rest of our website for more information on our locations and products and let us know how we can help you.